Get Motivated: 25 Leg Day Quotes That Inspire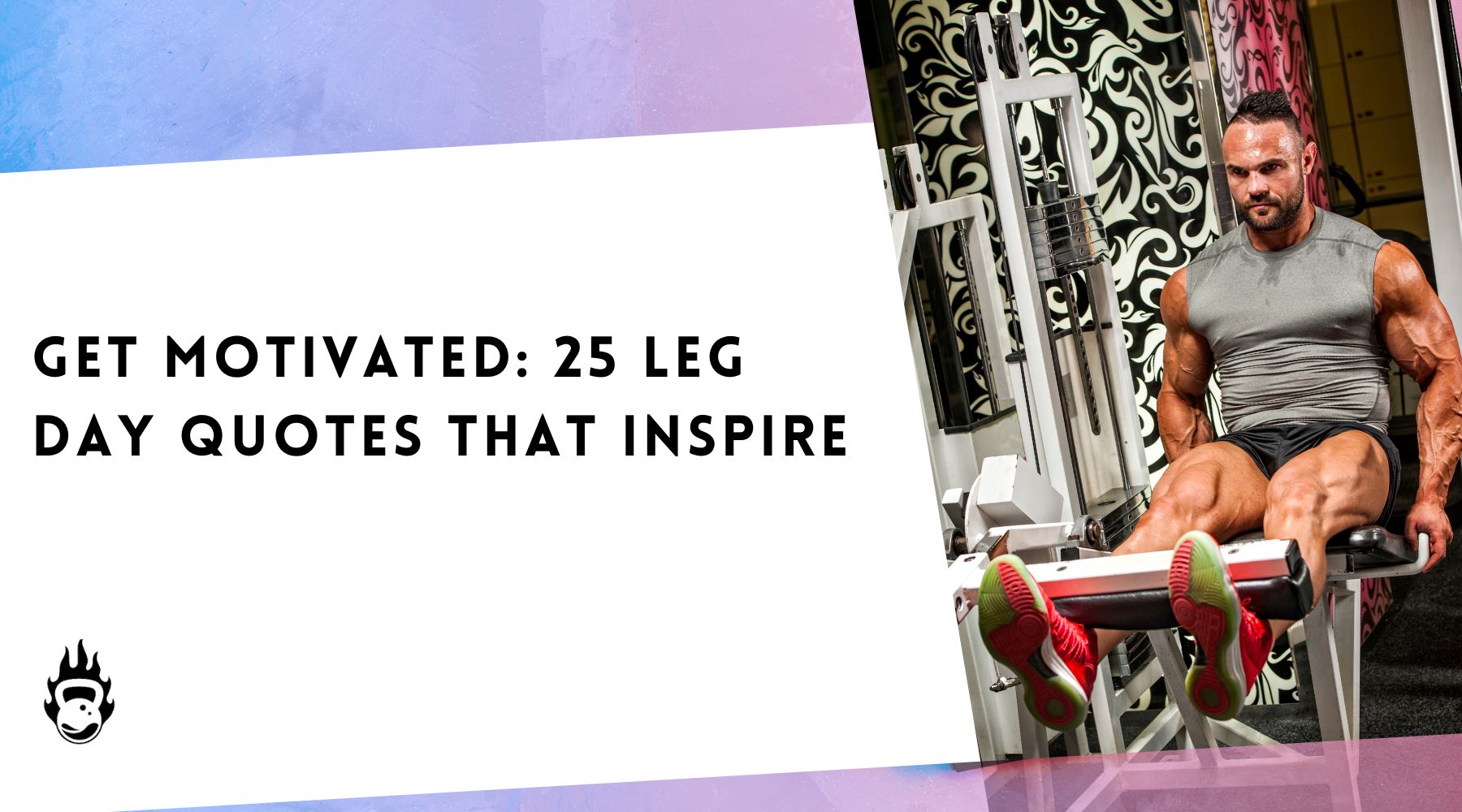 Leg day. A day that even the most seasoned gym-goer dreads.
And we don't blame them.
When you crank out those squats and deadlifts, simple things like walking around or sitting on a toilet the next day can be a challenge!😝 
But skipping leg day is not an option. (More on that below).
This is why we're here with some powerful leg day quotes/legs workout motivation quotes that'll inspire you to go out there and smash your leg day workout!
Let's get to it!
What do they say about leg day?
They say you should never skip leg day. So why is leg day important?
According to a study published in the European Journal of Applied Physiology, performing heavy resistance exercises (including leg day workouts such as squats and deadlifts), help increase your testosterone levels. And higher testosterone means more muscle.
Leg day workouts also help blast more calories as you will be engaging your gluteus maximus (a.k.a. your booty) which is the biggest muscle in your body along with all the major muscle groups in your body.
Leg day workouts also help to prevent injuries, decrease lower back pain, lose weight, correct any muscular imbalances in the legs, enhance your athletic performance, and so on.
Now that you know why leg day is super important, let's move on to the fun part - leg workout quotes!!
You might like: The Definitive Guide To Use Ab Roller - Benefits, Exercises & More
Top 25 Leg day quotes
Do those squats seem worse than climbing a mountain to you?
Feel like you'll be dead if you do another deadlift? 😝
Don't worry. These 25 leg day workout quotes could be just the thing you need to power through your leg day workout!
1. You can't spell legendary without leg day.
The mother of all leg day quotes, right?!!
2. Life is too short to skip leg day.
3. If you can walk normally after leg day, then you need to train harder!
This leg day quote is so true!
4. Your legs are not giving out. Your head is giving out. Keep going!
5. For some people, leg day is hell. For me, it's heaven.
6. There is no sweat like leg day sweat!
7. Be savage, not average.
8. You have to work out your legs. They're the ones that carry you around.
9. If it were easy, everyone would have done it.
10. One of the greatest moments in life is realizing that two weeks ago your body couldn't do what it just did.
11. If it doesn't challenge you, it doesn't change you.
12. If you aren't begging for rest, then you aren't training your best.
A leg day quote that'll keep you going!
You might like: 13 Must-Have Fitness Essentials For 2023
Leg day workout quotes for females
Ladies! Here are a few leg day workout quotes that'll help you cruise through your leg days!
13. It takes a strong woman to walk in heels after leg day.
14. You don't get the ass you want by sitting on it!
Now's that one helluva leg day quote, eh ladies? 
15. Strong girls never skip leg days.
16. Less talk, more squat.
17. It never gets easier. You just get stronger.
Related: Top 25 Female Fitness Quotes To Motivate Yourself
Leg workout quotes by famous personalities
Searching for some inspirational quotes on leg day workouts by celebrities?
These quotes on leg workout are epic!
18. "Pain is temporary. Quitting lasts forever." ~ Lance Armstrong
19. "There's more to life than training, but training is what puts more in your life."~ Brooks Kubik
20. "The last three or four reps is what makes the muscle grow. This area of pain divides a champion from someone who is not a champion." ~ Arnold Schwarzenegger
You might like: The 10 Biggest Fitness Trends For 2023
Funny leg day quotes
Looking for some funny leg day Instagram captions?
These leg day quotes for Instagram are sure to give you and your followers a good laugh 😂
21. I am not a zombie. I walk like this because yesterday was leg day.
22. God rested on the 7th day because the 6th day was leg day.
23. After leg day, every step is a mission.
24. I got 99 problems and they're all my sore muscles.
25. You make my knees weak. JK. Yesterday was leg day.
Did these funny leg day quotes for Instagram make you giggle? 😄
Workout gear for leg day
If you think strong legs are made only in the gym, you could be no further from the truth!
All you need for your leg day workouts are versatile equipment including resistance bands, adjustable dumbbells, jump ropes, etc.
If you're not sure of what type of exercises you can do with these equipment, check out our blog posts on resistance band exercises and jump rope workouts for beginners.
Browse through Burnlab's collection of premium home workout gear right here.
Final words
Whether you're searching for some funny leg day Instagram captions or amazing leg day quotes to display in your home gym, or legs workout motivation quotes to share with your fellow fitness buddies, this article has got you covered!
So, the next time you feel like skipping your leg day workout, look to these awesome quotes on leg day workout for that extra dose of motivation.
Here's a bonus leg day workout quote to kick your legs into high gear!
May the force be with you on your leg days! 😄
---