13 Must-Have Fitness Essentials for 2023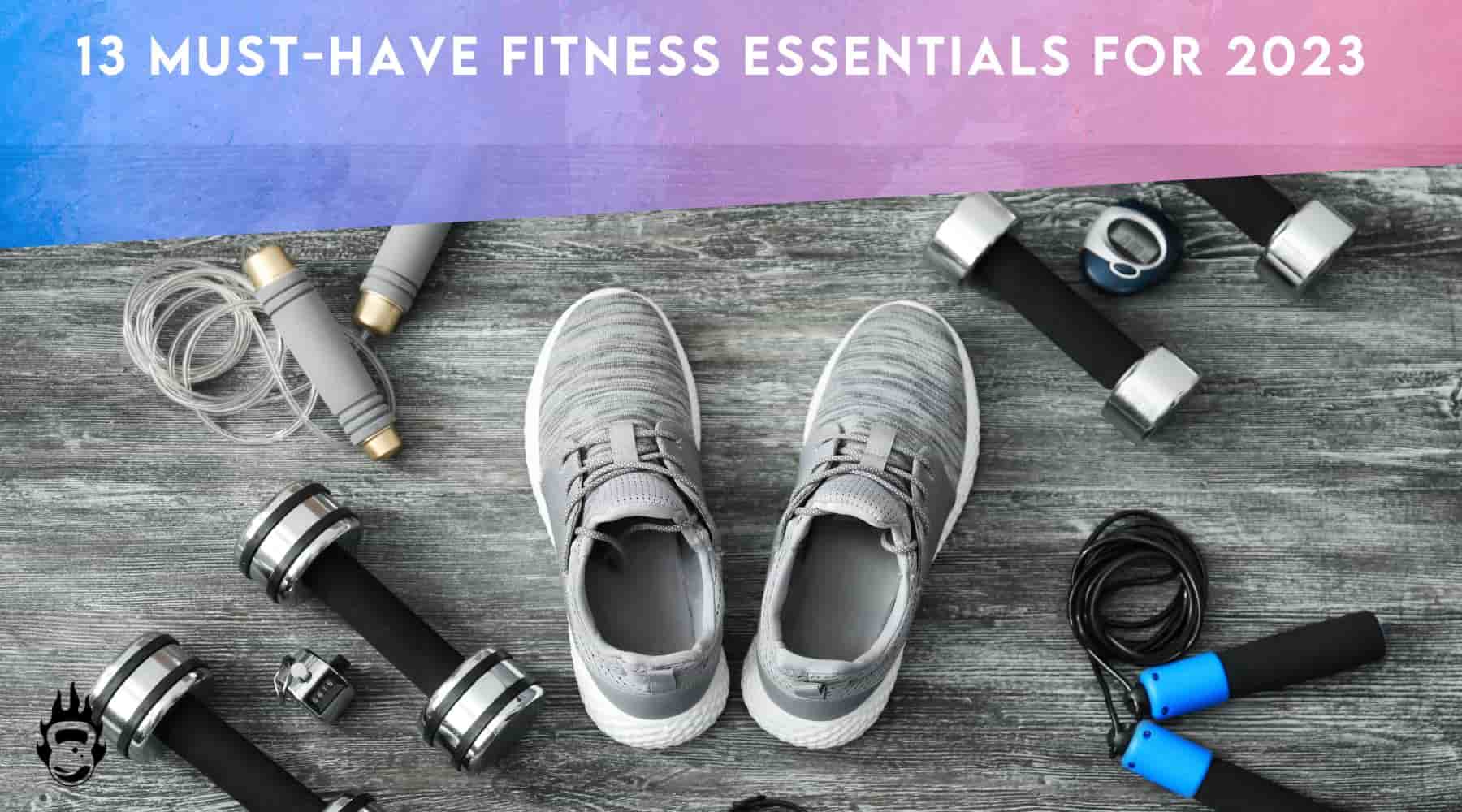 The New Year is here. 
A time for celebration, new beginnings, and New Year's resolutions. 
Now if you (like many of us) are determined to maintain a healthy lifestyle, exercise more whether at the gym or home and ultimately smash your fitness goals, we think this list of workout and gym essentials for 2023 is surely going to help.
Are you ready to find out what workout essentials made it to this list?
Read on…
8 Must-Have Fitness Essentials For your Workout
Whether you exercise at the gym, your living room, or own a home-gym, this list will come in handy.
1. Skipping rope
If the last time you swung a skipping rope was during your PT period in school, then you're missing out on some major benefits. 
Apart from being a serious calorie burner and a heart-rate booster, jumping rope improves your stamina, agility, and cardiovascular endurance, increases your bone density, reduces your BP and cholesterol, and much more.
There are so many ways you can use a jump rope. Use it as a stand-alone tool to do a complete cardio workout. Increase your muscle endurance by adding it to your HIIT workouts. Or use it as a warm-up tool to get those muscles firing before you hit the weights or head out for a game of cricket.
Add to that the fact that you can practically take your jump rope anywhere, this is one equipment that has to be on your fitness essentials list for 2023.
Buy it: Skipping ropes 
2. Yoga mat
Duh! This one's a no-brainer for any fitness addict!
There are myriad ways you can use a Yoga mat. Yoga, Pilates, stretching and warm-up exercises, abs workouts, bodyweight exercises, post-workout cool-down sessions, and more.
A premium-quality Yoga mat can give you adequate cushioning to protect your joints, help you maintain your balance, help with your grip and posture, prevent falls and injuries, etc.
Make sure your Yoga mat is dense and has a textured surface for better grip. Bonus points if it's bacteria-resistant (like ours 😉)
Buy it: Prana Yoga Mat
3. Resistance tubes
Forget about waiting for the cable crossover machine or the weight bench at the gym. A set of resistance tubes is all you need to fire up your entire body!
These tube-shaped bands can be stacked together to adjust the resistance levels and usually come with other accessories such as ankle or wrist cuffs and a door anchor.
Resistance tubes are fantastic for all your pushing, pulling, and rotational exercises including lat pulldowns, pull-aparts, triceps kickbacks, bent-over rows, woodchoppers, etc. They are also ideal for supersetting between your weightlifting exercises.
Here's one workout essential that'll give you some serious bang for your strength training buck.
Buy it: Resistance Tube Set
4. Ab rollers
For those of you who are hell-bent on getting a rock-hard core, the ab roller is a must-have fitness tool.
The ab roller targets all your major core muscles including the 'rectus abdominis' (6-pack muscle), transverse abdominis, internal and external obliques, and other muscles such as the lats, biceps, deltoids, hip flexors, glutes, etc.
Using an ab roller can be a bit tricky for beginners as it requires a lot of core strength. Rolling out too much or too fast could lead to muscle injuries. So, ensure that you use proper form and practice a few progression exercises before you try this lean machine out.
Buy it: Ab Roller
5. Disc sliders / Core sliders / Gliding discs
While they might not look like much, core sliders can take your core strength and balance to the next level!
When you use core sliders it creates an environment of instability which forces you to actively engage your core as you try to maintain balance. This also helps you slow down and focus on your mind-muscle connection to strengthen your muscles.
You can intensify just about any exercise (think mountain climbers, planks, lunges, etc.) by placing your hands or feet on these gliding discs. (Don't try putting them under both your hands and feet simultaneously!).
While buying core sliders, look for ones that have dual surfaces that can work on any type of flooring including tiles, carpet, hardwood floors, etc.
Buy it: Disc Sliders
6. Adjustable dumbbells
Adjustable dumbbells are a great addition to your workout essentials list for 2023.
Why?
They take up less space

than 4-5 sets of regular dumbbells.

More value for money

. Getting one set of adjustable dumbbells would work out cheaper than multiple sets of regular dumbbells (you will need heavier weights as you progress).

Allows you to make strength progressions suited to your ability.

Some adjustable dumbbells come with weights such as 12.5 pounds and 27.5 pounds which make it convenient for people who want smaller weight increments to help them move past their plateau.

Convertible.

Some adjustable dumbbells can convert into other tools such as a kettlebell, barbell, and push-up stand (just like the ones at Burnlab). Now, who wouldn't want that, eh?
Buy it: Adjustable Dumbbells
7. Agility ladder / Speed ladder
Whether you have a home gym with a fair bit of space or you want to take your exercise session outdoors, the agility ladder can be an amazing workout essential to own.
Agility ladders help increase your speed, agility, quickness, balance, coordination, endurance, and even your mental concentration.  And if you're into sports, then the agility ladder is a must-have as it helps to increase leg strength, acceleration, rhythm, and body control.
Agility ladder drills (think ickey shuffles, forward hops, one-foot shuffles) are considered HIIT. This makes it great for burning mega calories and losing weight.
Buy it: Agility Ladder
You might like: How To Stay Fit During Winter And Hit Summer With A Toned Body
8. Resistance bands (Pull-up bands)
The fitness essential that should be on every fitness freak's workout arsenal – The humble yet mighty resistance band.
Whether you want to strength train, improve your mobility and flexibility, fire up your muscles before a cardio session, do assisted pull-ups, add resistance to your bodyweight exercises, do Yoga or Pilates, or rehab from an injury – resistance bands are the answer!
What makes resistance bands so awesome?
They can be

as effective, (if not more) than free weights

.

They recruit your stabilizer muscles in addition to your large muscle groups.

Your muscles are under constant tension throughout the range of motion which results in bigger muscle growth.

They are less taxing on your joints.

They can target your muscles from all the different planes of motion.
Buy it: Pull-up bands
5 must-have Gym essentials 
You don't wanna head out to the gym without grabbing these gym essentials for 2023!
1. Gym bag
The #1 gym essential on our list is a gym bag. (Can't go to the gym without it, can you?)
While looking for a gym bag, consider the following factors.
Size.

For most gym-goers, a medium-sized bag (15-20 liters) would be sufficient. But if you need to carry a lot of items, then go for a larger one (30 liters).

Material.

Gym bags come in various materials such as nylon, cotton, polyester, faux leather, and so on. Check the material's durability, weather resistance, etc. while choosing your gym bag. 

Features.

Look for bags that are washable and come with compartments, side pockets, etc. if you plan on carrying various items.

Style.

Shoulder, Duffel, tote, backpack. Pick a style that suits your needs.
Buy it: Faux Leather Bag
2. Gym gloves
Whether you're rowing with a resistance band, lifting a heavy barbell, or attempting pull-ups, a good pair of gym gloves is a must-have gym essential.
Why? Gym gloves…
Provide you better grip and control over your weights resulting in an effective workout.

Offer good wrist support (due to their padding) and hence prevent injuries.

Absorb your sweat and prevent friction. Say goodbye to calluses and blisters!

Give you added comfort and protect your hands from nasty germs.
Buy it: Gym Gloves
3. Shoes
Wearing the right shoes can make all the difference to your gym workouts. 
For general training that includes HIIT, low-impact lifting, CrossFit, bodyweight workouts, or working out on cardio machines, look for training shoes that have little to no arch in the sole. These will ensure better stability and grip on the floor. 
If you're into heavy weightlifting, opt for specialized weightlifting shoes that have sturdy, stiff soles and an arch in the sole (to provide higher mobility in your ankle and calf). 
And if running outdoors is your thing, go for a pair of running shoes that have a curved outsole (for springiness) and a well-padded midsole (for better strides and comfort).
4. Microfibre gym towel
Sweat like a pig during your workouts? Then a microfibre gym towel is one gym essential you don't wanna forget!
Microfibre towels...
Are super thin and lightweight.

Can

absorb over 7 times their weight

in water (that's a lot of sweat

😜

).

Dry really fast (1/3

rd

the time of ordinary fibers).

Remain odor-free even after several uses.
Microfibre towels are perfect for all types of exercises including cardio workouts, hot Yoga (provide good grip), running, HIIT, and more.
5. Headphones + Workout playlist
If you don't wanna get stuck listening to the same old tunes that your gym plays every single day, we highly recommend 2 gym essentials.
A good set of headphones or earbuds

A rockin' workout playlist 
Research shows that listening to those peppy numbers while working out can increase endurance, decrease perceived effort, boost your mood, enhance power and strength and delay fatigue! Amazing, right?
So put together some tunes (check out our list of the 50 best workout songs/mashups here) and grab those earbuds before your next venture to the gym.
Related: Top 25 Female Fitness Quotes To Motivate Yourself
5 tips to meet your fitness goals this year
Ever wondered why a lot of us (91% to be precise) fail miserably at achieving our fitness goals or new year fitness resolutions? It's because changing your habits can be extremely hard!
But by following the below simple tips, you could be well on your way to meeting your fitness goals.
Setting SMART fitness goals

Adding variety to your workouts

Writing down your goals

Having a strong support system

Setting up your environment for success
For more tips and the #1 proven hack to make your fitness goals / New Year fitness resolutions work, check out our blog post here.
Final words
So, there you have it. Our workout and gym essentials list for 2023!
Consider your space and budget, equipment versatility, and most importantly your fitness goals before investing in any type of fitness gear. The last thing you want is for your fitness essentials to be gathering dust on your shelf!
Which of these equipment are you most interested in? Let us know in the comments below!
---