How To Build A Home Gym Setup In Less Than Rs. 25000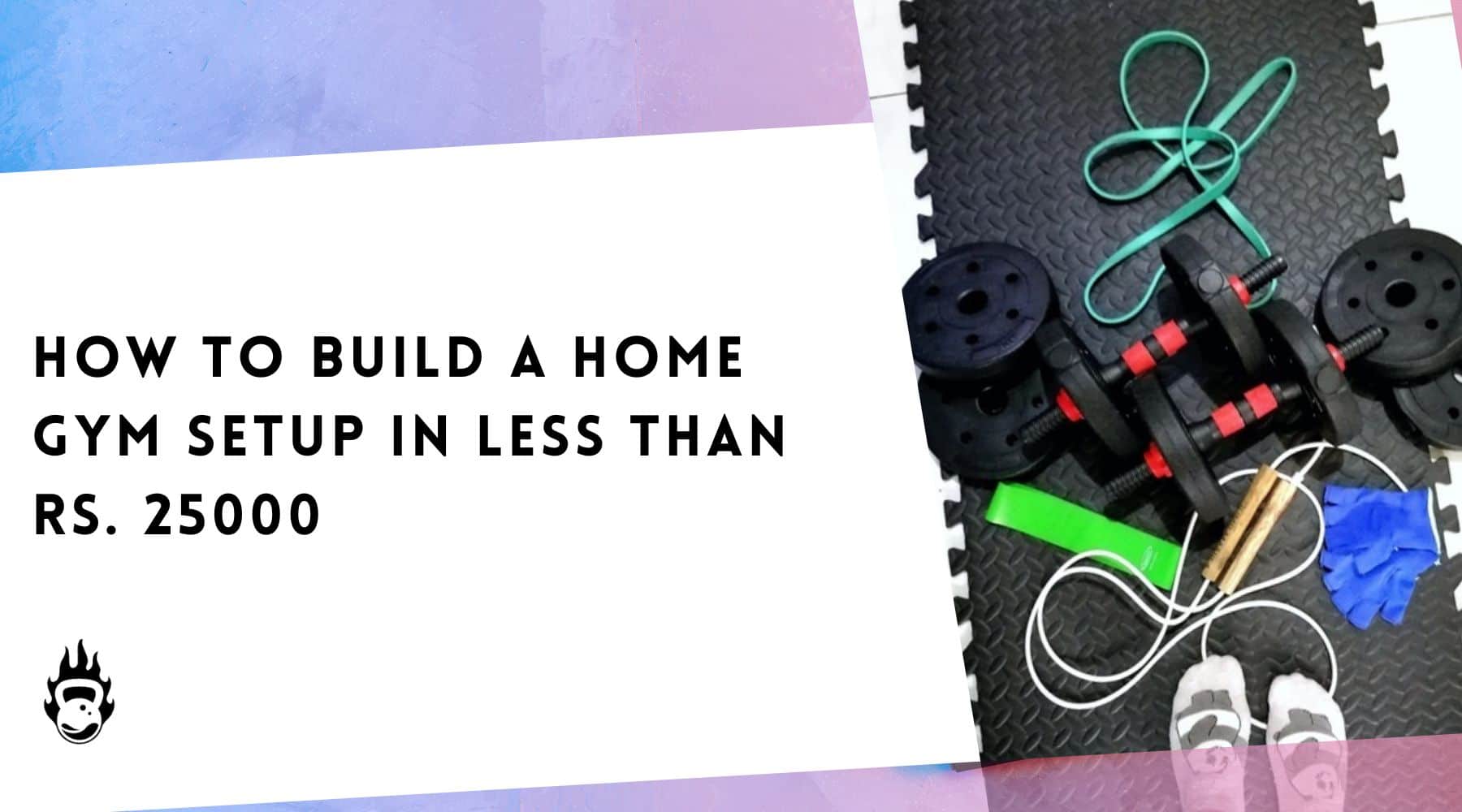 Home gyms are on the rise. Here's some data to back that up.
There are plenty of reasons why a home gym setup trumps working out in a commercial gym.
No commute, no exorbitant gym fees, no touching sweaty gear, no wasting time waiting for said sweaty gear – you get the gist.
So, if you've been wondering how to make a home gym and what type of fitness equipment is best for your gym setup for home, then you're at the right place!
Here's our guide to setting up a home gym in 5 steps and within a budget of Rs. 25000.
Building a

Home Gym Setup in 5 Steps
1. Choose a space
To set up a gym in house, you first need to choose a space depending on your style of workouts.
For instance, if you prefer doing cardio and/or strength training workouts and want to invest in equipment such as a treadmill, barbells, and weight plates, you might need a small room for your home gym setup.
But if a small corner of your home is all you have, then a jump rope and resistance bands are excellent space-saving alternatives. (To jump rope, the only space you need is about 10' front-to-back, 5' side-to-side, and a ceiling height about 3' taller than you.)
If you like to practice Yoga, Pilates, or bodyweight exercises, then a place that is big enough to spread out a Yoga mat without any obstructions around will suffice.
Here are a few gym setup for home options to consider:
A small spare room/storage room

A section of your living room/bedroom.

A garage

A wide balcony / covered terrace.
To figure out how much space you need for your home gym setup, here are a few guidelines from American Council on Exercise.
2. Consider your budget
You don't need to spend several lakhs to make a home gym. With just INR 25,000 you can invest in compact yet versatile equipment such as jump ropes, resistance bands, Yoga mats, dumbbells, etc.
But if you have a larger budget of around 1 lakh, then you have several gym equipment options to choose from including treadmills, cross trainers, multi-station gym machines, and so on.
3. Select the right fitness gear
When you're first setting up a gym in house, you just need a few basic equipment such as a Yoga mat for stretching and bodyweight exercises, a jump rope for cardio, and resistance bands for strength training. Once you have a bigger budget and as your fitness goals evolve, you can opt for the fancier gym equipment and even indulge in recovery equipment such as foam rollers and massage guns.
Here are a few useful pointers while selecting fitness gear:
Choose versatile equipment that can be used for multiple exercises. E.g. resistance tubes, and adjustable dumbbells.

Look for premium and durable equipment with long warranty periods.

Hunt for items that are sold as a bundle to cut down on your costs.
4. Have a storage plan
The last thing you want is to have your gym equipment all over the place!
Here are a few ideas to store your home gym equipment.
A cupboard.

You can arrange all your equipment on separate shelves.

A peg wall.

Create hooks on your peg wall for resistance bands, jump ropes, etc.

Storage container/basket.

Use a large storage container to store all your compact equipment including dumbbells, resistance bands, jump ropes, disc sliders, etc.

Under your bed.

Yoga mats can be rolled and stored under your bed.

Weight rack.

Use it if you have multiple sets of dumbbells.

An empty wall.

Set up floating shelves for all your compact gym essentials.
5. Create the perfect home gym setup design
Here are a few factors to consider when designing your home gym.
a. Ventilation
Ensure your home gym space has enough ventilation. This could be achieved by opening your windows or using fans or an air conditioning system.
b. Lighting
If you don't have enough sunlight flooding into your home gym, ensure you install sufficiently bright lights.
c. Flooring
If you're going to install cardio machines or use heavy weights in your home gym, we recommend getting either rubber or vinyl flooring to prevent any damage to your floors, minimize noise, and cushion your falls.
Apart from these, you could also consider the below add-ons to your small home gym setup that'll get you super-pumped for your workout sessions!
Essential home gym setup equipment
Here's our list of small home gym setup equipment that you can fit into a budget of Rs. 25,000.
1. Pull-up Resistance Bands
If you had to choose just one workout tool for your at-home strength training, then we'd strongly recommend these bad boys!
Pull-up bands are lightweight, portable, durable, cost-effective, and one of the most versatile pieces of gym equipment out there.
They usually come as a set with varying resistance levels. As a beginner, choose the band with the least resistance and eventually move on to the higher resistance bands that'll make your workouts more challenging.
Also, use a lightweight band if you're targeting your smaller muscle groups say triceps or biceps, and heavyweight bands for the bigger muscle groups like your back and lower-body muscles. 
Benefits
Pull-up bands…
Assist you in pull-ups.

Help you perform all types of pushing, pulling, and rotational exercises.

Are useful for stretching and mobility exercises.

Help in rehabbing knee, shoulder, or ankle injuries.
Buy it: Pull-up Bands – INR 2399.
To know more about resistance bands workouts, read our detailed blog post here.
2. Adjustable Dumbbells
Wanna achieve some major strength and mass goals? Invest in a set of adjustable dumbbells for your small home gym setup!
Adjustable dumbbells are the perfect way to add some resistance to your isolated strength exercises including lateral raises and sit-ups and compound exercises such as lunges, and squats. 
Benefits
They can convert into other equipment including a kettlebell, barbell, and push-up stand.

They take up very little space.

They work out cheaper in the long run. With regular dumbbells, you would have to buy multiple sets if you want to progress.
Buy it: Adjustable Dumbbells – INR 6500
3. Hip Bands
Want to give your booty a lil extra love? A set of hip bands – a.k.a. booty bands are sure to do the trick!
Wrap these around your thighs or below your knees during your kickbacks, bridges, squats, and lateral band walks and feel the burn in your glutes, hips, and thighs.
Benefits
Hip bands activate your glute muscles 10-fold which results in better lower-body strength and muscle gains.

They work all your hip muscles by going through the various motions that the hip joint is capable of. This means stronger and more stable hips.

They help maintain your form during exercises such as deadlifts, squats, etc. as your legs are forced to stay active. This means your knees don't push in or out and hence lower the chances of injuries too.
Look for hip bands that are made of non-slip fabric so that they don't slip or roll up during your workouts.
Buy it: Hip Band Set – INR 1299
4. Ab Roller with Resistance Tubes
Want to build rock-solid abs? An ab roller with resistance tubes is a must-have for your gym setup for home!
When you use an ab roller with resistance tubes, your core muscles experience a full range of motion. This causes your spine to stretch and contract, making it stronger and stopping your back from arching while doing so.
This movement intensely challenges your rectus abdominis – a.k.a. your six-pack muscles.
Benefits
Isolates and strengthen your abs, chest, shoulders, arms, back, thighs, and glutes in one exercise motion.

Increases your functional strength, and improves your stability and posture.

Great for beginners as you can return to your original position effortlessly thanks to the resistance offered by the tubes. Plus you can adjust the length of the pull rope and thus the resistance levels so that you can make your workout as easy or as tough as you want it to be.
Buy it: Ab Roller with Resistance Tubes – INR 1899
5. Skipping Rope
If you're looking for a fun, affordable, and effective way to do your cardio in your small home gym setup, then look no further than a skipping rope!
Jumping rope for just 15 minutes a day can burn anywhere between 300-500 calories!
And the best part? It takes up almost no space!
Benefits
Helps in weight loss

Strengthens your whole body

Increases your bone density

Improves your agility
..and much more!
Buy it: Spin Variable Rope (Starter) – INR 599.
To know more about jump rope workouts, read our blog post here.
6. Yoga Mat
Another must-have in your small home gym setup, a good Yoga mat can make all the difference to your floor exercises, be it ab crunches, knee push-ups, or post-workout stretch sessions.
While buying a yoga mat, look for ones that are
Dense – Should feel heavy so that they don't peel off even with repeated usage

Thick – Provide you adequate cushioning for your joints

Sticky – Should have excellent grip on all types of surfaces

Bacteria-resistant – Should resist sweat absorption
Buy it: Prana Yoga Mat – INR 1799
7. Yoga Block
Yes, you read that right. Yoga blocks can be an awesome addition to your gym setup for home.
For beginners, yoga blocks are useful as they can bring the ground closer to you, give you additional support, and help you maintain balance.
But as you advance and you try to practice a pose that is past its limits, your muscles would tense up badly and prevent you from going deeper into the pose. And this is where the yoga block comes in handy by making such poses more accessible, and facilitating strength building and balance.
Buy it: Prana Yoga Block – Rs. 899
8. Yoga / Pilates Ring
If Pilates is your jam, then a Pilates ring could be just the thing for your gym in house!
Usually around 14 inches in diameter, a Yoga ring can add resistance to your moves (think triceps press, shoulder bridges), increase stability and joint mobility, and sculpt, tone, and build lean muscle.
Just squeeze these rings between your thighs, ankles, calves, arms, and palms and feel the burn!
While buying a Yoga ring, look for one that
Is made of metal or fiberglass and covered with rubber or foam

Has soft padded handles on both the inner and outer surfaces
Buy it: Prana Yoga Ring – INR 999
9. Adjustable Gym Bench
An adjustable gym bench is a fantastic addition to your gym in house that can tone, condition, build muscle, and more!
With an adjustable bench, you can isolate and work your muscles at different angles.
For instance, by increasing the incline you would work your upper chest and shoulder caps. As you move towards the flat position, you would be working your middle chest, and in the decline position, your lower chest will get a good workout.
Since adjustable benches are usually foldable, you don't have to worry about space constraints.
Price range: INR 3000 -5000
Home gym setup cost in India
If you plan on purchasing heavy equipment and also spending on flooring, ventilation, lighting, etc., your home gym setup cost (India) could go up to INR 1-2 lakhs.
But if you're only investing in a few versatile equipment (such as those listed in this blog) and minimum accessories, your home gym setup cost (India) could be within Rs. 25000.
Final words
As you can see, setting up a home gym doesn't have to be expensive or nerve-wracking. All you need is some versatile fitness gear and a home gym setup that motivates you to get off your chair and EXERCISE!
Which of these fitness essentials would you like to have in your home gym? Let us know in the comments below!
---