25 Captivating Yoga Captions That Will Invoke Mindfulness Within You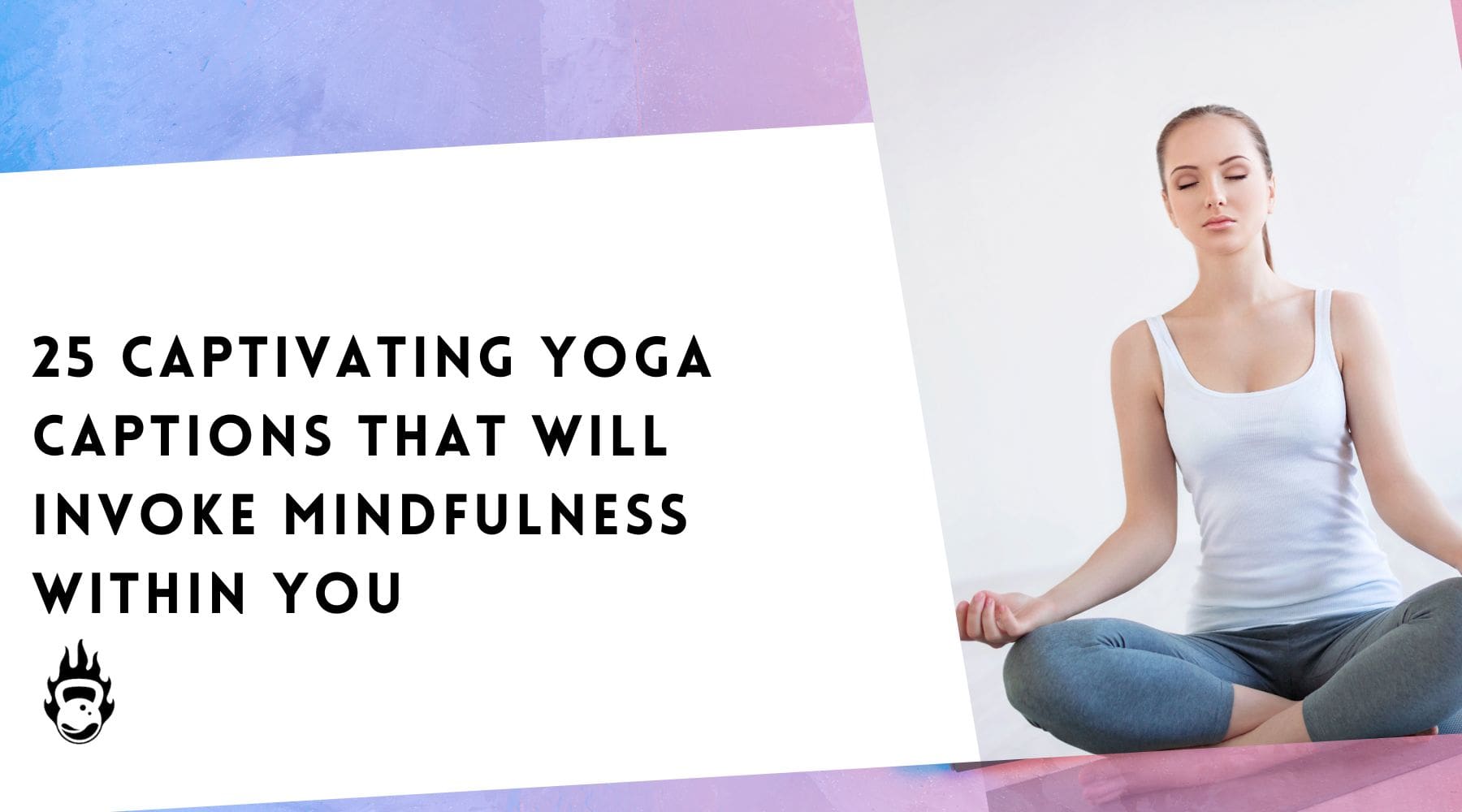 Picture this: You've just captured the perfect moment of tranquility during your yoga practice. You've added a super-cool filter, and you've got your hashtags in place.
But now you're racking your brain trying to write that perfect yoga caption that wonderfully encapsulates the essence of your experience and inspires your Instagram fam. 
That's where our blog comes in. 
Whether you're a seasoned yogi looking for mindful yoga captions or positive yoga quotes, a yoga influencer searching for inspirational yoga quotes, or yoga sayings, or an aspiring yogi desiring to embrace the goodness of yoga, this blog is your ultimate destination!
So, are you ready to be amazed by our collection of yoga quotes? Let's do this!
Benefits of Yoga
Did you know that more than 300 million people worldwide practice Yoga? 🤯
Here's why all these people love yoga!
Yoga…
Improves your

flexibility

, strength, and balance.

Helps you sleep better.

Is great for your heart.

Boosts your mood and energy levels.
So if you aren't already into yoga, now's the time to join a yoga class or buy a yoga mat and practice right at home!
Related: How Long Should You Keep A Yoga Mat?
Top 25 Yoga Captions
Yoga captions and quotes for Instagram
Looking for some inspirational yoga captions to accompany that flawless Handstand Scorpion pose you just captured?
Or maybe an awe-inspiring yoga quote to motivate your Instagram audience to hit their yoga mat?
Take your pick from these amazing yoga captions and yoga quotes for Instagram!
1. "I bend so I don't break."
A killer short yoga caption, right?
Related: 25 Fitness Quotes To Keep You Going When You Want To Quit
2. "The pose begins when you want to get out of it." ~ B.K.S Iyengar.
Now if this yoga quote doesn't inspire your Instagram fam, we don't know what will!
3. "Never underestimate a person with a yoga mat." (Yep, you don't wanna mess with us!)
While choosing a yoga mat, ensure that the mat provides enough padding and support (4-5 mm thick is ideal), is dense, is anti-slip, can be cleaned easily, and is preferably bacteria-resistant and toxin-free. In other words, get a Burnlab yoga mat 😉
You might like: Top 25 Female Fitness Quotes To Motivate Yourself
4. "Yoga is not about touching your toes. It is what you learn on the way down." ~ Jigar Gor.
Finding it hard to touch your toes or get deeper into a particular yoga pose? A Burnlab yoga block could come in handy!
5. "Yoga is not about self-improvement, it's about self-acceptance."
You might like: Is Yoga An Alternate For Walking?
6. "Yoga is like life, it's a balance of holding on & letting go." 
An excellent yoga caption to accompany your warrior pose pic!
7. "Sky Above – Earth Below – Peace Within."
This short yoga caption is sure to take your followers to a new level of serenity.
8. "Yoga adds years to your life and life to your years." 
Truer words have never been spoken, right?
9. "The nature of yoga is to shine the light of awareness into the darkest corners of the body" ~ Jason Crandell.
You might like: Can We Do Yoga And Gym Together? Answered By Experts
International yoga day quotes 
Looking for some interesting International Yoga Day quotes to impress your fans on social media? Try these yoga quotes!
10. "Yoga teaches us to cure what need not be endured and endure what cannot be cured." ~ B. K. S. Iyengar.
11. "Yoga does not just change the way we see things; it transforms the person who sees." ~ B.K.S Iyengar.
A pretty profound yoga saying, right?
Inspirational yoga quotes 
Need some extra motivation to help you power through your power yoga class? These positive yoga quotes are sure to elevate your yoga game!
 12. "Yoga is both energy and rest. Yin and Yang. We feel the burn and find our bliss." 
Yep, you can really feel the burn when you engage in certain types of yoga such as Vinyasa yoga or hot yoga. Read more about how yoga can help with weight loss right here.
13. "Yoga doesn't care about what you have been; yoga cares about the person you are becoming." 
14. "Yoga means addition – addition of energy, strength, and beauty to body, mind, and soul." ~ Swami Sivananda Saraswati.
15. "Yoga is the fountain of youth. You're only as young as your spine is flexible." ~ Bob Harper
16. "It doesn't matter how deep into a posture you go — what matters is who you are when you get there." ~ Max Strom.
Funny yoga captions 
Nothing like humor to grab your audience's attention, right? Here are a few funny yoga captions that'll have your followers in splits 😹
17. "Thanks to yoga, I now gently stretch to conclusions rather than jumping to them." 
Speaking of stretching, did you know that you should stretch each of your major muscle groups for 60 seconds per exercise, at least twice a week? 
To know more about when and how often you should stretch, check out our blog post here.
18. "Alignment: Check yourself before you wreck yourself."
You might like: How To Do Yoga Correctly? 10 Tips To Elevate Your Practice
19. "I practice yoga because punching people is frowned upon." 🤣
20. "Did you know that just 10 minutes of yoga per day can seriously reduce your risk of caring about what people think?"
You might like: Get Motivated: 25 Leg Day Quotes That Inspire
21. "Sometimes in yoga, I feel like a graceful swan. Other times, I feel like a blind elephant." 🤣
22. "I do yoga so that I can stay flexible enough to kick my own ass if necessary."
23. "Yoga is not about tightening your ass.  It's about getting your head out of it." ~ Eric Paskel.😂
But hey, if you do wanna get a strong and tight booty, check out Burnlab's hip bands!
Yoga captions for meditation
Yoga and meditation complement each other wonderfully. While yoga prepares your body and mind for meditation by enhancing your flexibility, strength, and focus, meditation complements yoga by cultivating mindfulness, self-awareness, and a sense of inner peace.
So, if you're someone who loves to practice both yoga and meditation, these yoga captions for meditation are meant for you!
24. "Yoga is the journey of the self, through the self, to the self." ~ The Bhagavad Gita. 
25. "Yoga takes you into the present moment. The only place where life exists." 
Final words
We hope our treasure trove of delightful yoga quotes and yoga captions will not only complement your Instagram aesthetic but also infuse your posts with a sense of purpose and meaning.
For all your yoga essentials, make sure to check out our fabulous yoga accessories collection right here.
Which of these yoga quotes and yoga captions are your favorites? Let us know in the comments below!
---